Celebrations
Happily ever after starts at The Sea Ranch Lodge. The timeless draw to celebrate on the coast is set for a new chapter for a new generation. A stunning backdrop of meadows, cliffs, and the Pacific, The Sea Ranch distills meaningful moments and enticing encounters into every celebration. Whether you want to host a private intimate dinner, a micro wedding, or ceremony and reception, we'll help you set a high bar for your celebration in harmony with the land and sea.
Request a quote →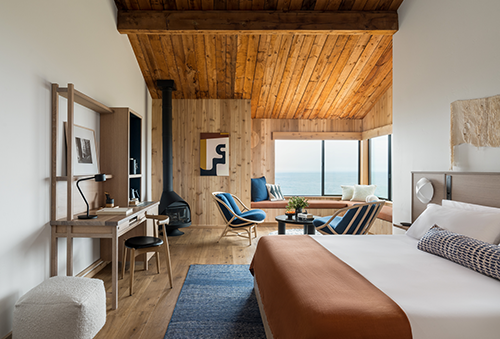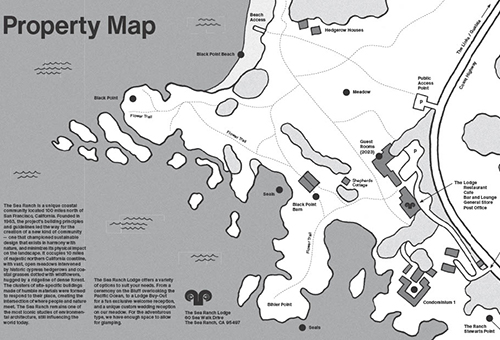 Features & Benefits
Outdoor Event Locations
Intimate Settings
Celebrations
Pacific Ocean Views
Venues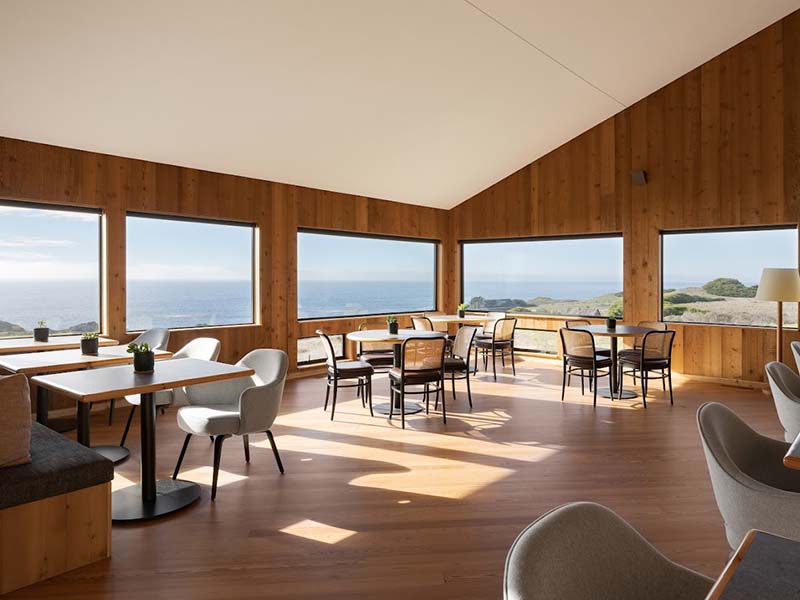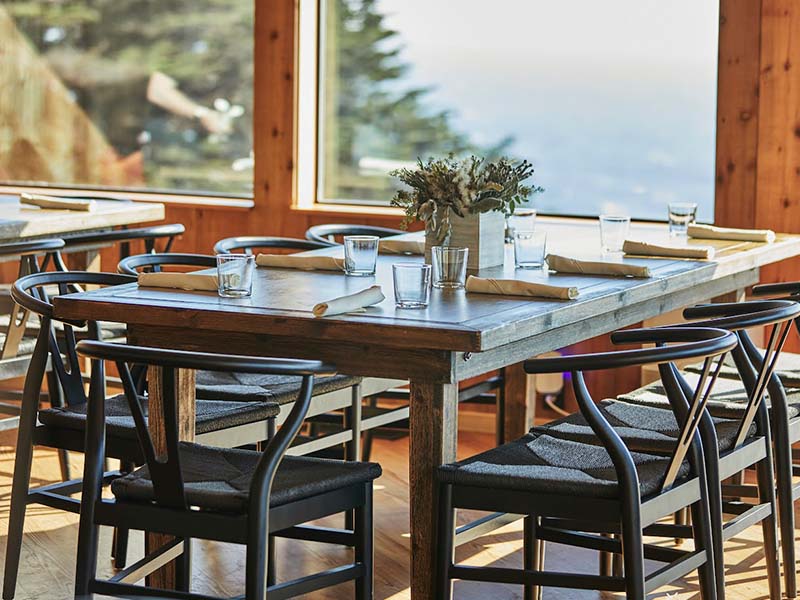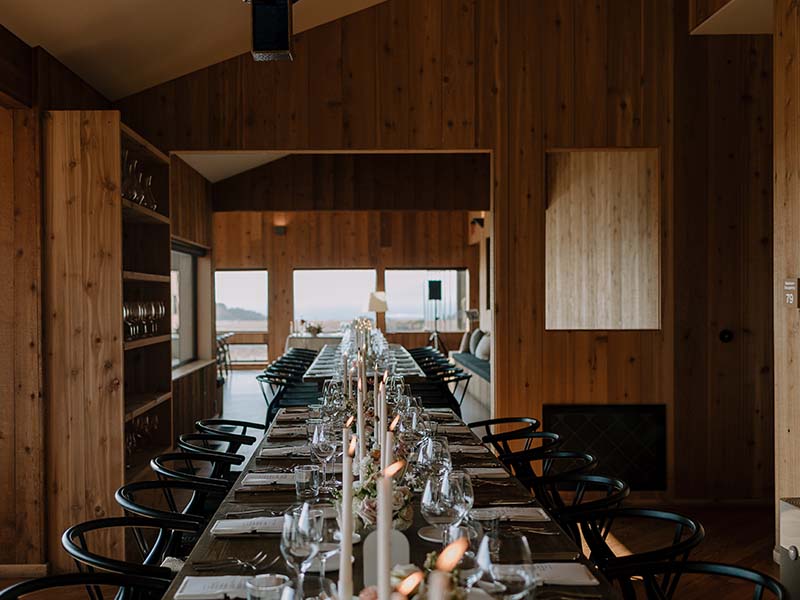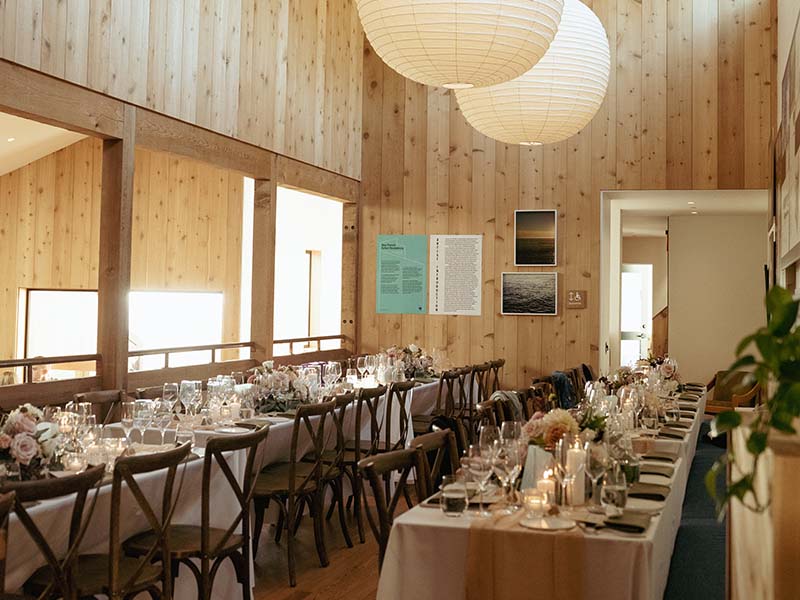 The Lodge
Capacity: 100 for reception, 80 for dinner
The Lodge is our signature and largest indoor venue. It is the hub of The Sea Ranch complex and was lovingly restored and reimagined in 2021. This quintessential Sea Ranch architectural masterpiece offers unique inviting spaces with walls of windows that boast direct views of the Pacific and ruggard bluffs. Truly the highlight venue of the complex, you can host your celebration, dinner, after dinner dance party, or farewell brunch with the backdrop of this renowned architecture setting featuring custom designed furnishings that complete a one of a kind experience against stunning views.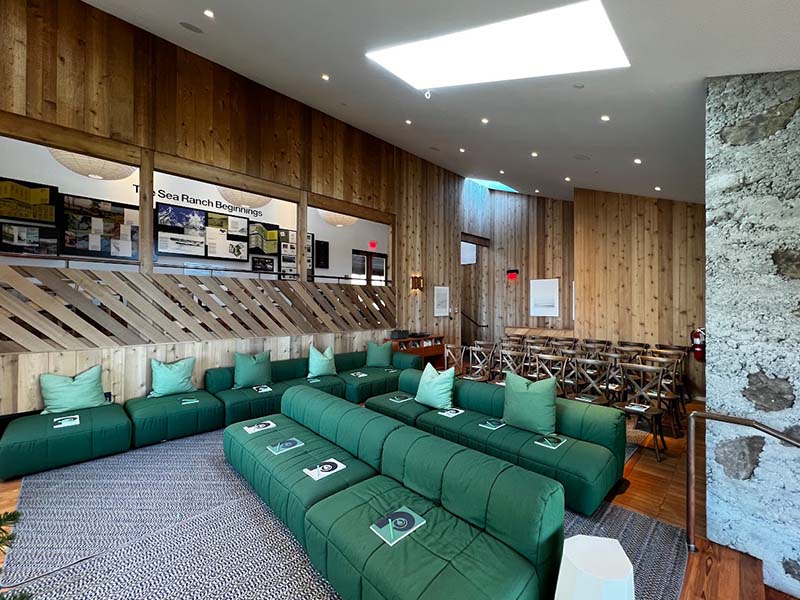 Fireside Lounge
Capacity: 60 guests for reception
This oversized lounge is adjacent to the Lodge Dining Room and sits in the hub of the main complex. Reimaged and launched in 2021 The Fireside Lounge is a cozy, bright sun filled room with direct views of the Pacific and windswept bluffs. This popular casual venue features a massive stone fireplace to gather around and for added retro fun, a vinyl record player and a great selection of music. There are custom vintage styled vibrant green couches to allow you many options for setup to create the perfect ambiance for your celebration, pre or post dinner gathering or with you friends and family in a casual affair with cocktails and appetizers.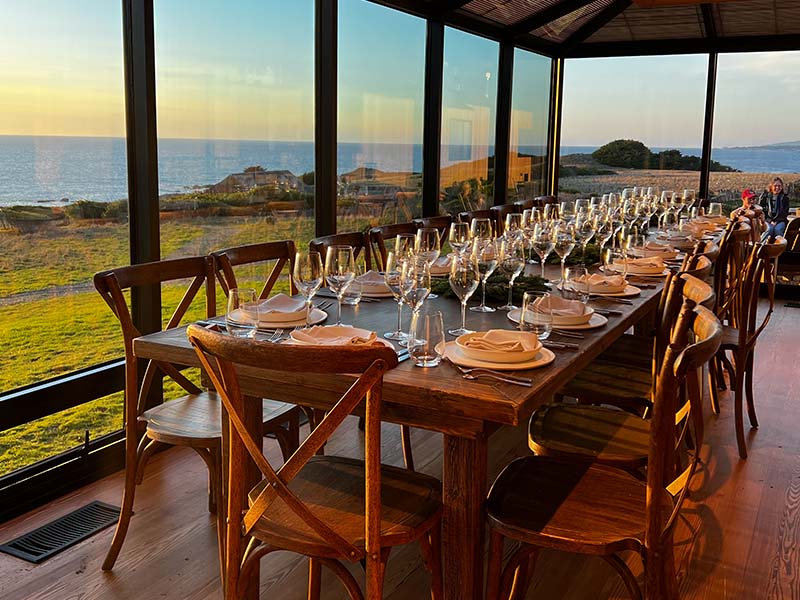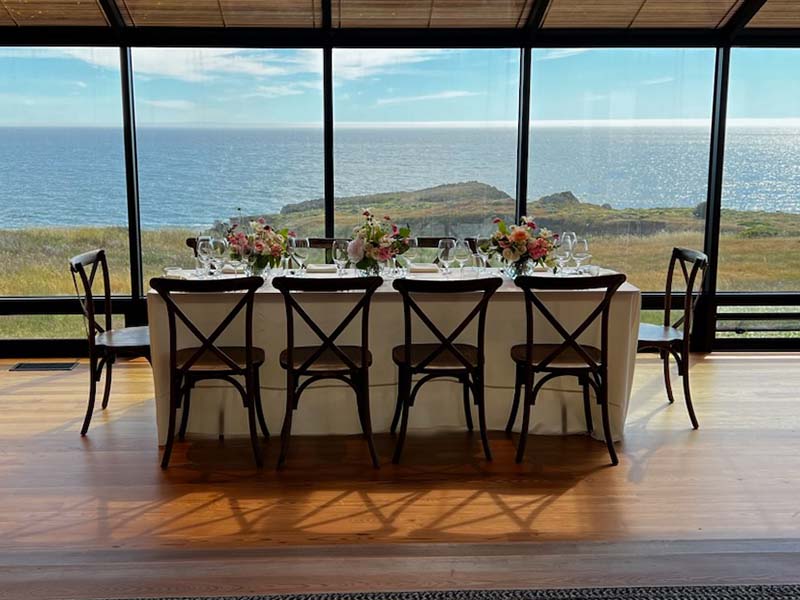 Solarium
Located in the heart of The Lodge, sitting oceanfront and surrounded by sweeping windows, this semiprivate area is sun filled and a perfect venue for a rehearsal dinner or a departure brunch. Open to the Fireside Lounge and The Bar and Dining Room, your party can enjoy being the center of the action but tucked away with one of the best Pacific and bluff views at The Lodge, in your own intimate section.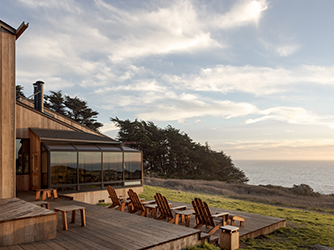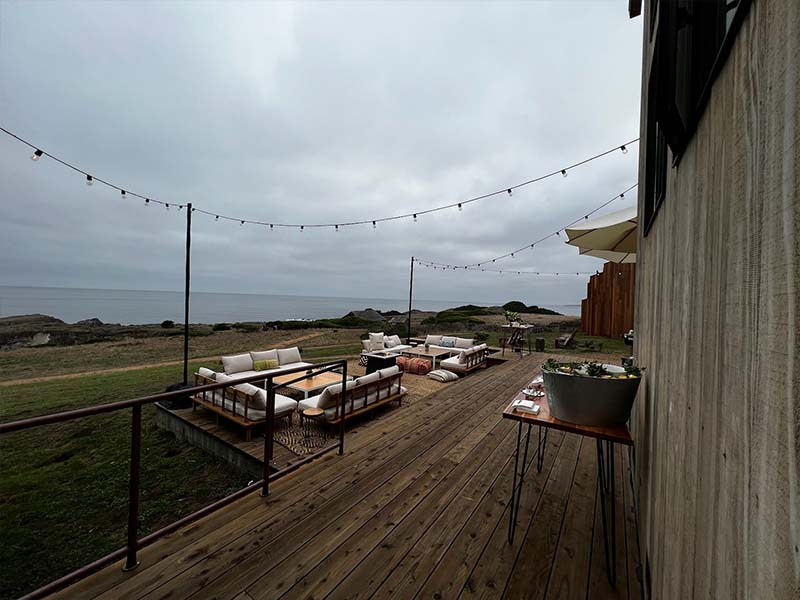 Ocean Deck
The newly expanded outdoor wooden deck is adjacent to The Lodge and sits oceanfront with direct Pacific views. This sunny deck is the perfect spot for a casual cocktail reception or intimate outdoor event. Stunning views of the ocean to watch the whales breach and the sunset at golden hour.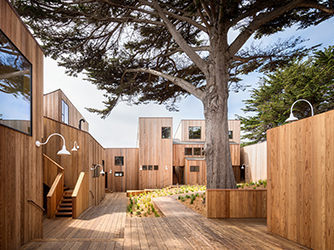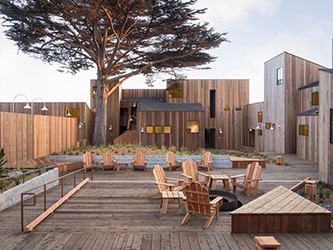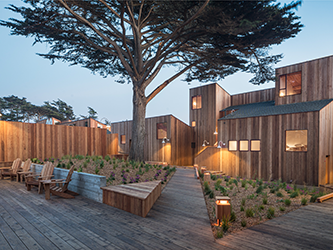 Courtyard
Capacity: Max. 100 for reception, 50 for dinner
The newly redesigned Courtyard premiers this summer with the completion of the new guest rooms. This new outdoor venue offers privacy and seclusion from the main Lodge and is sheltered from the Pacific winds, nestled in a landscaped garden, The Courtyard features an intimate amphitheater style design, terraced areas for dining and allows you to create a multitude of set ups and themes for your rehearsal dinner or farewell brunch.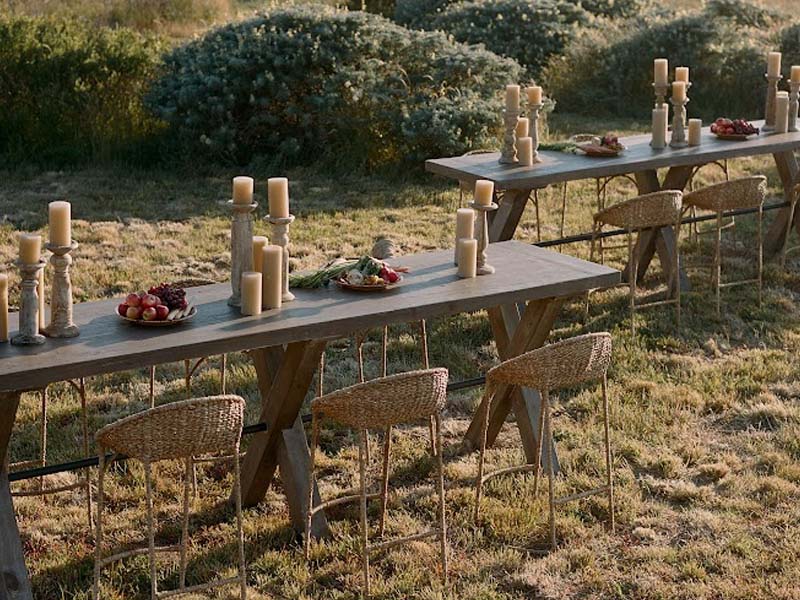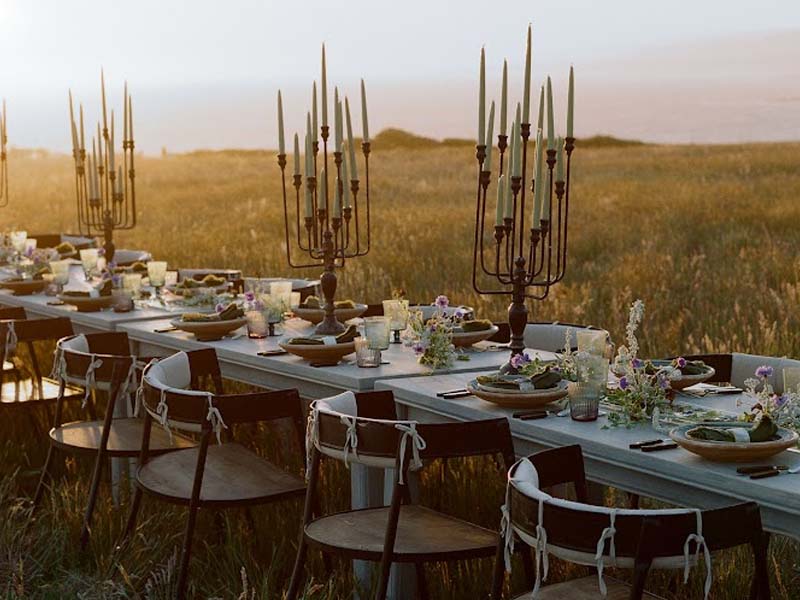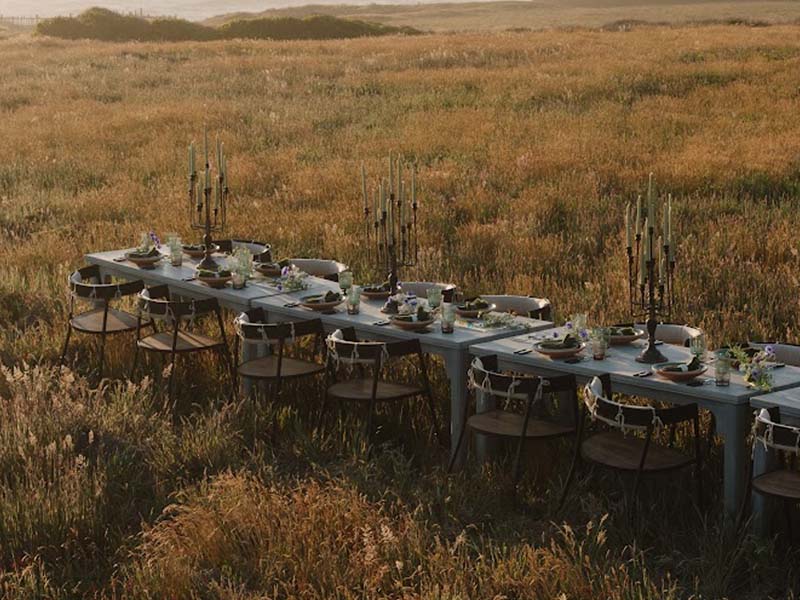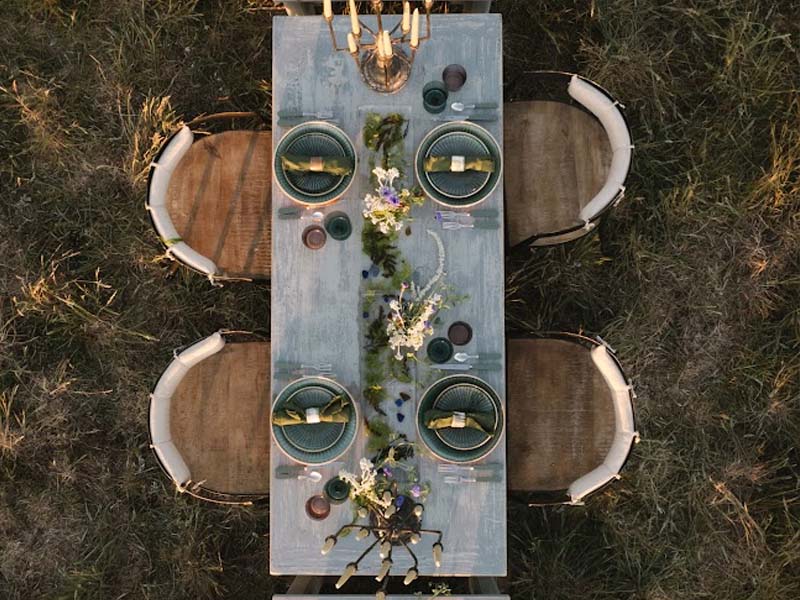 Meadow
Create a very unique reception for your wedding on our large naturally beautiful meadow. This overlooks the Pacific in both directions. Have an al fresco dinner under the stars or inside a beautiful custom tent. This is the perfect venue to customize your dream wedding in a one and only location for your day to remember celebration.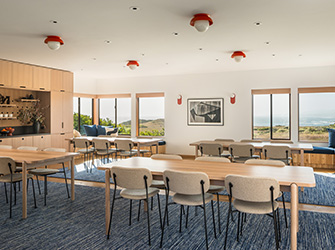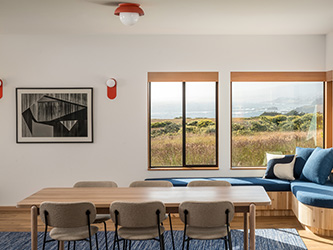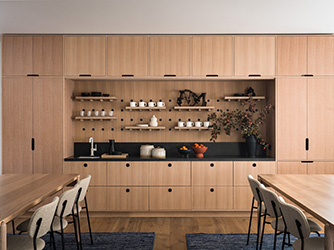 Meadow Room
The perfect area to host a smaller brunch or a custom rehearsal dinner. Or use this stunning window lined venue for the bridal party during the big day to get ready, a separate area from your guest room which allows you more space and comfort to prepare all while enjoying the views of the meadow and dramatic Pacific.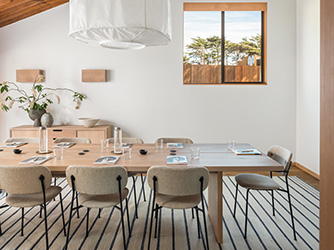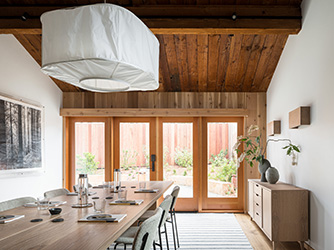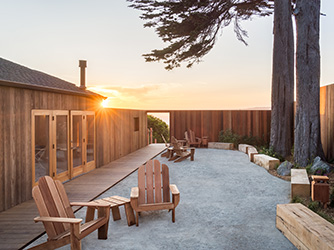 Redwood Room
This intimate venue is a great space for the family to take over for a place to relax, gather privately and have a refreshment. Or for the groomsmen to enjoy the afternoon of the wedding. Located off the Courtyard and boasts a private patio it's a very flexible space and has many set up possibilities through the day for your event.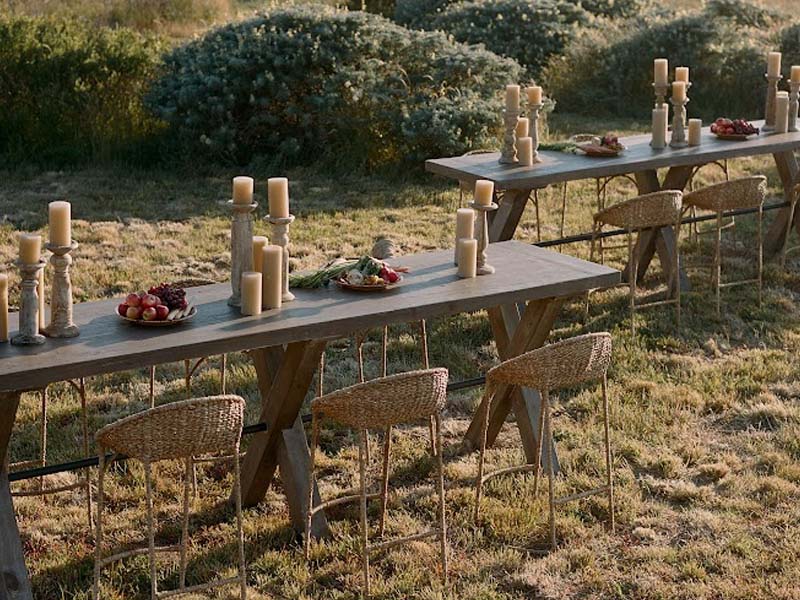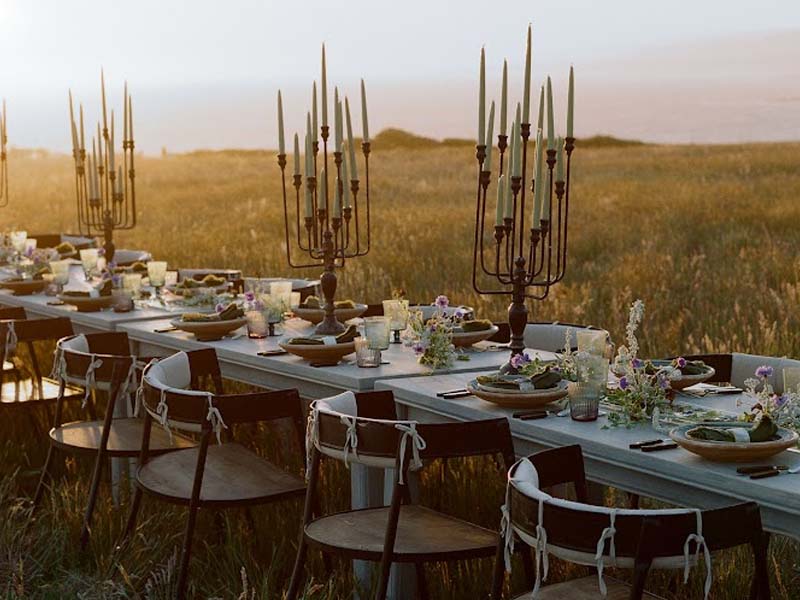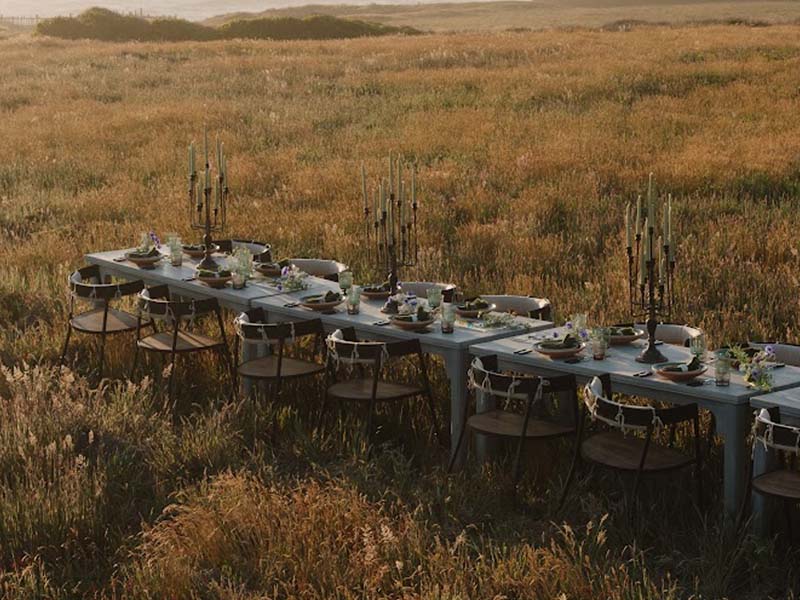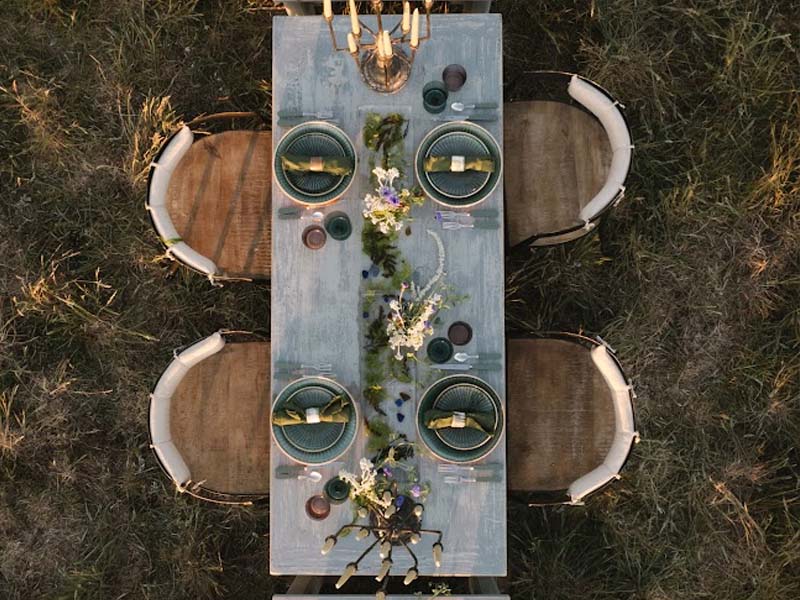 The Bluff
Capacity: Max 70 for a ceremony
What is a more dramatic backdrop than this rustic natural setting that features your ceremony at the edge of the continent, overlooking the mighty Pacific and stunning rugged Sea Ranch coastline. This area creates an intimate outdoor experience perfect for smaller groups.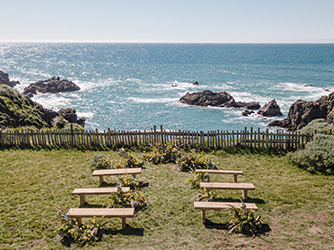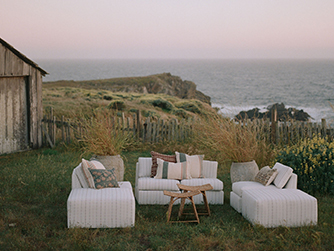 Barn Meadow
Capacity: Max. 150 for a ceremony
The Barn Meadow is a great ceremony location which overlooks the ocean. This sheltered meadow ocean front location is adjacent to our historic Black Point Barn, and in this jaw dropping setting you'll tie in the history and heritage of The Sea Ranch and your new lives together.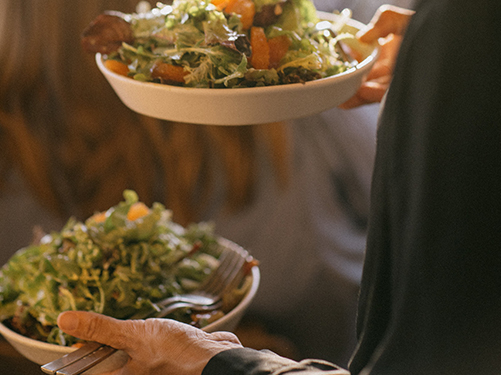 Private Dining Options
Chef Eric Piacentine brings a new iteration of "rugged refined dining" featuring elevated coastal cuisine with dishes centered around locally sourced ingredients from farms and fisheries in No. California. With 500,000 square feet of land with unbeatable views of the Pacific, the property offers a variety of celebrations and creative customized menus from Chef Eric.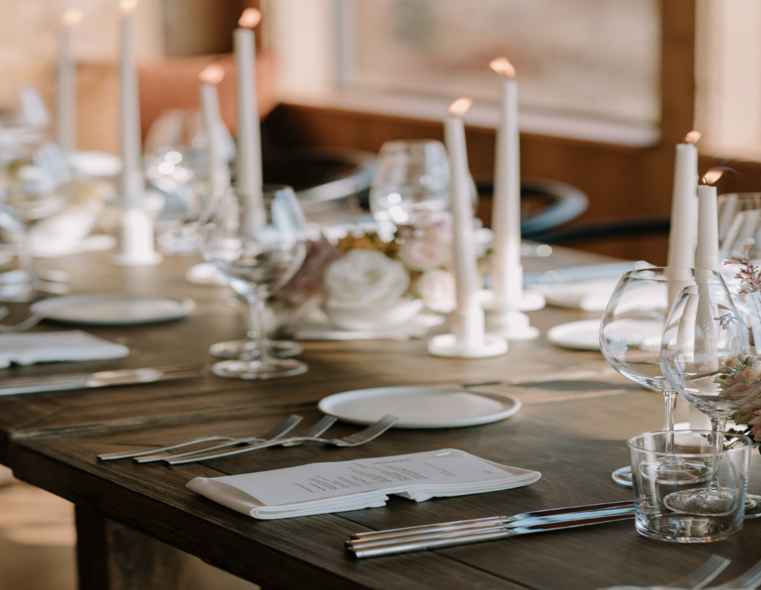 Book your holiday party or special event with The Sea Ranch Lodge and receive the below perks!*
Waived venue rental fees
Waived bartender fees
A hosted Champagne toast for each attendee
Certificate for a 2-night stay at The Sea Ranch Lodge
Custom printed menus with company logo
Upgraded event space with coastal views
Learn More →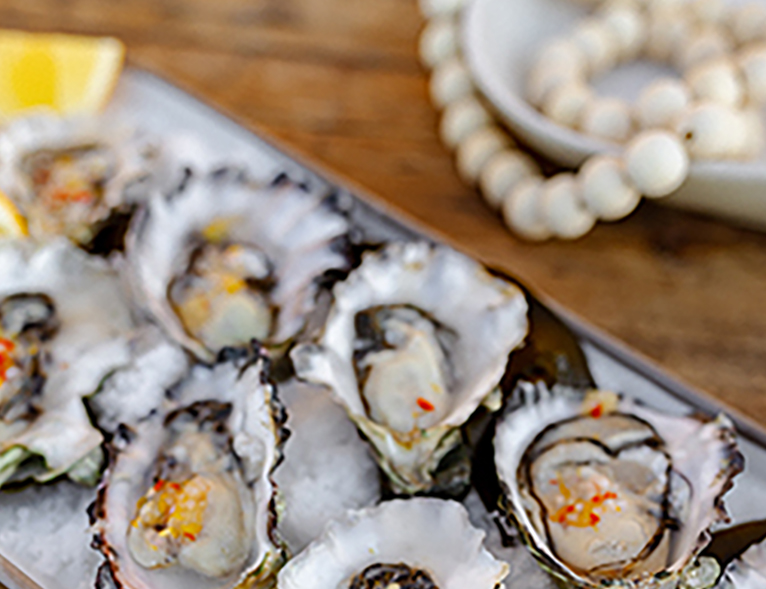 Private Dining Options
• Chef's Table- Accommodates up to 15 guests for dinner
• Meadow Room - Accommodates up to 30 for dinner
• Customized Menus and Decor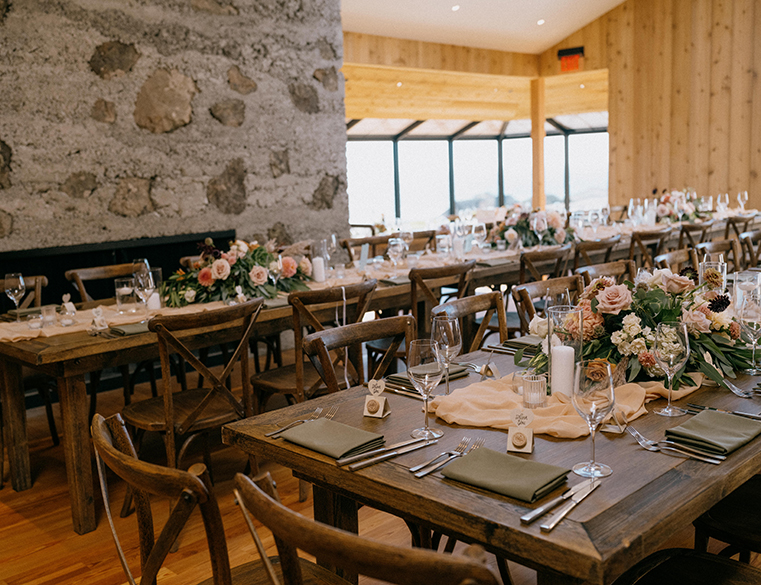 Intimate Celebrations at The Solarium & the Fireside Lounge
Up to 40 guests
Includes:
• Banquet tables + 2 sets of chairs to select from
• Ceramic plates, flatware, & glassware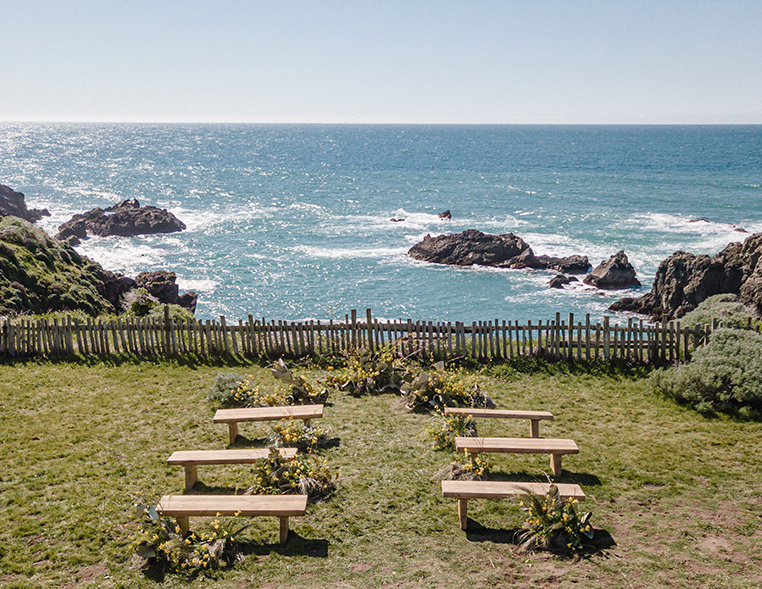 Micro Weddings
Up to 25 guests
Ceremony
Reception + Dinner in the Fireside Lounge & the Solarium
Includes:
• 1 hour ceremony time
• 5 hours of reception time
• Banquet tables + 2 sets of chairs to select from
• Ceramic plates, flatware, & glassware
Group Activities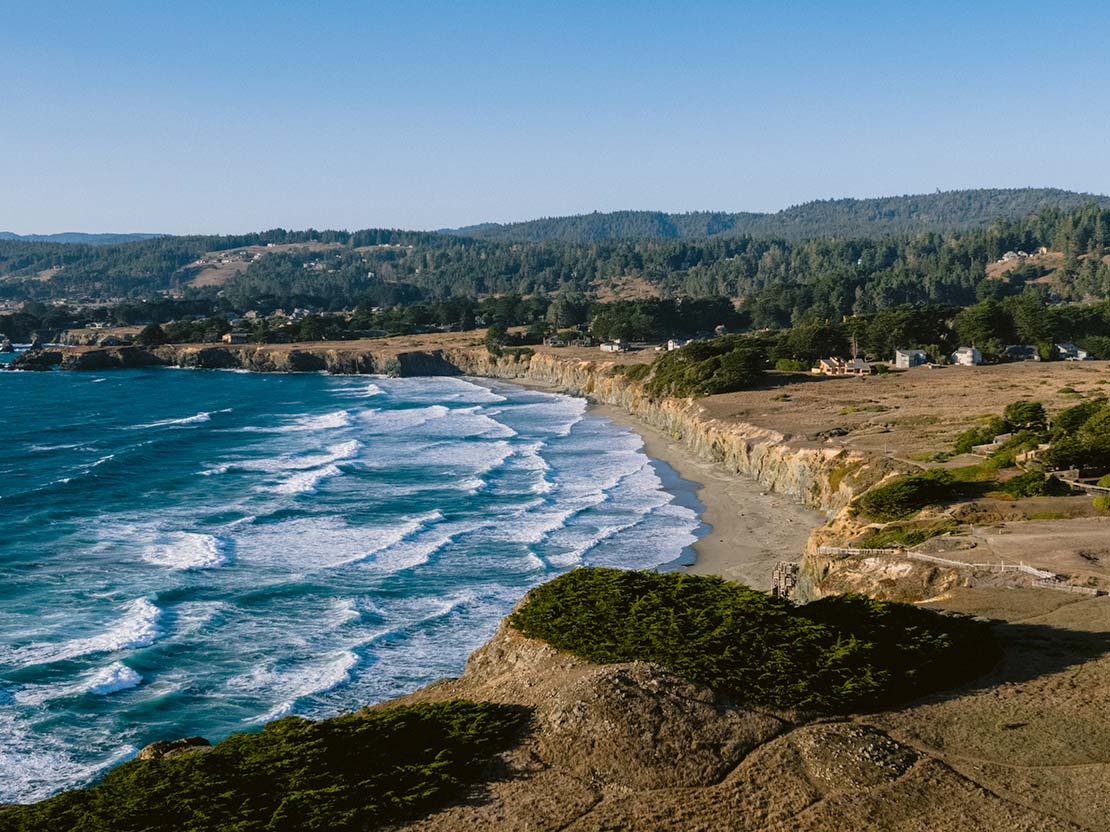 Nature Walks at The Ranch
Explore The Sea Ranch's rich history while enjoying the vista views of the Pacific Ocean.
Catch a whale breach, discover the amazing stories of the coast and learn about the flora and fauna and wildlife and how this all shaped the renowned vision for the community.

Max of 40 attendees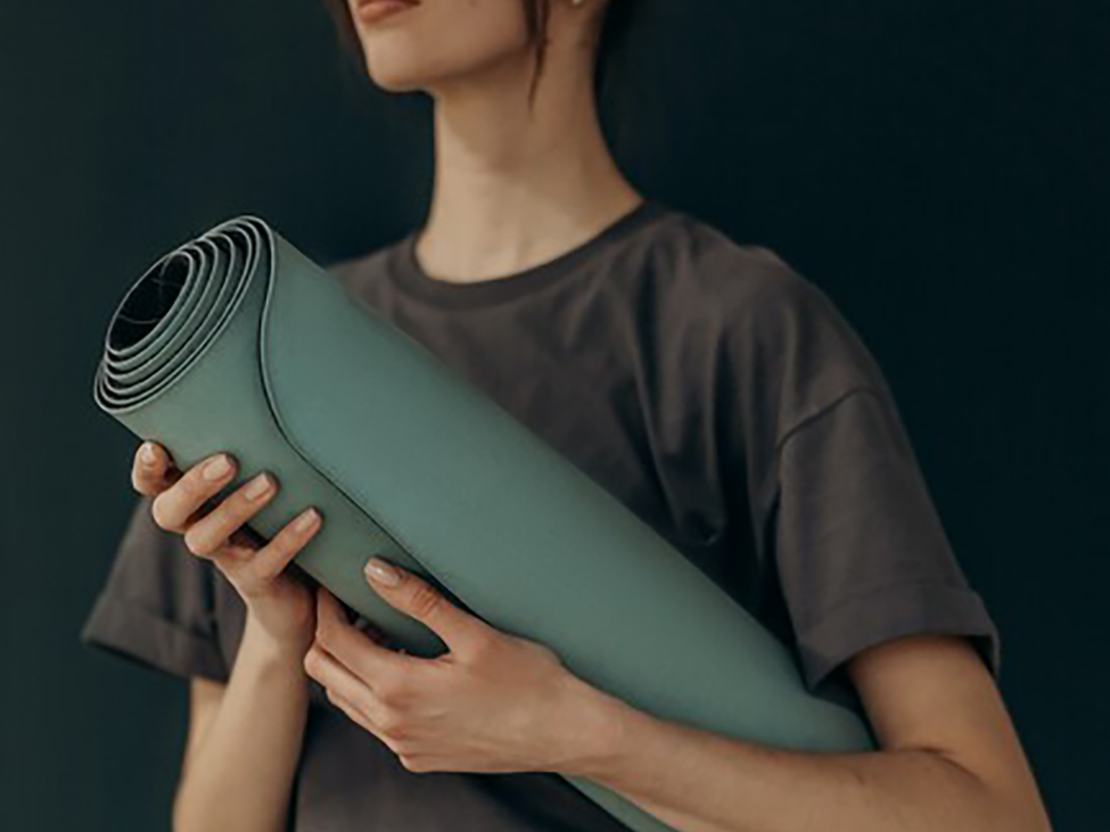 Private Yoga Class
Enjoy a sunrise or sunset hour-long yoga session led by local instructors.
The perfect activity for your program and to better connect to the energy of The Sea Ranch.

Max of 25 attendees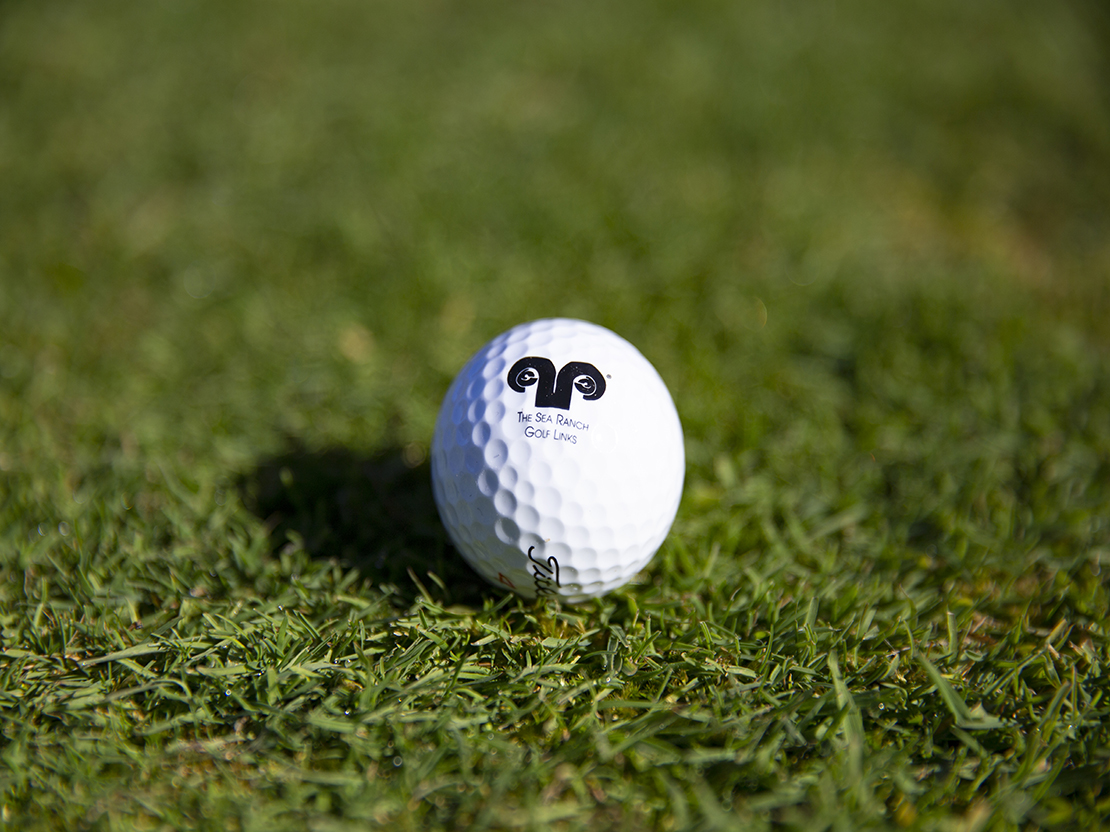 Golf Activities 
At The Sea Ranch Links, the only true Links course in Northern California, you can play 18 holes or bring out some friendly competition with a putting tournament or a closest to the pin group activities.
Min of 10 players and max 50 players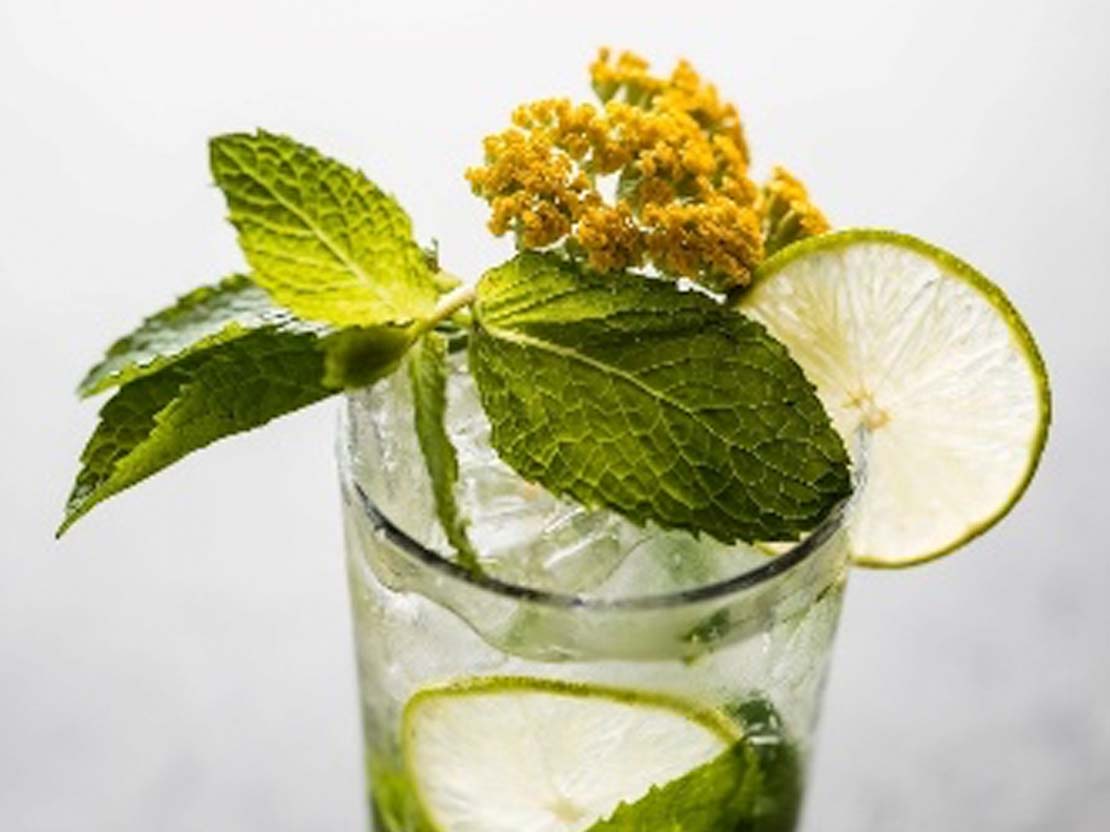 Cocktail Class with Julie's Natural Shrubs
Guided by Julie, our resident mixologist, you'll learn insider tips on the best ways to blend, pour and finish a masterful specialty cocktail with natural shrubs sourced locally.
Min of 10 guests and max 50 guests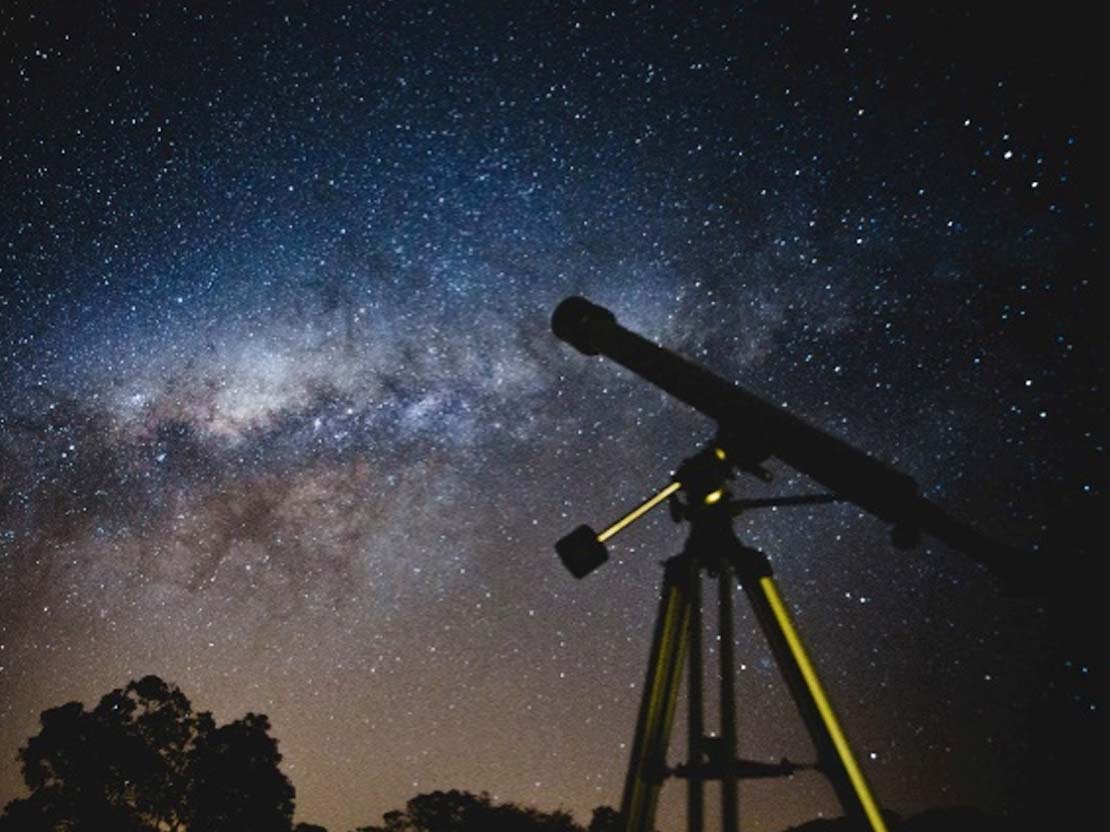 Astronomy Experience in the Night Sky
Explore the sky and connect with the Universe! Our personable & knowledgeable astronomers will walk you through the wonders of space. For events that begin before sundown, special equipment allows up-close viewing of the sun and its magnetic fields. For nighttime events, our powerful telescopes will get you up close and personal with the planets, stars, and many other treasures of the night sky.
The Sea Ranch's remote location has very little light pollution and the heavens are magical on a clear night. This is truly a breathtaking experience that you won't get anywhere else. Good for all ages.

Max 15 guests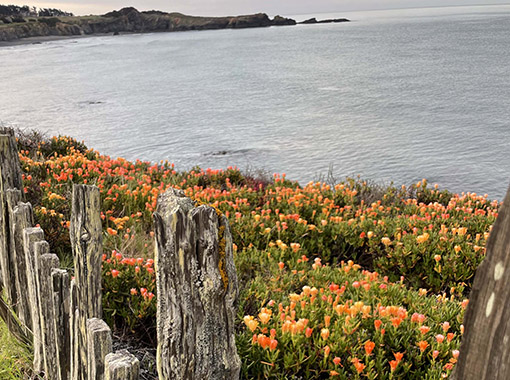 Explore The Sea Ranch Wildflowers
With the help of Mary Hunter we have created a new wildflower map, which will guide you through the majestic fields of colors and assist you in identifying each flower. Go out and enjoy the flower displays as they start to bloom all the way from Biehler Point to Black Point.
Request for Proposal
Thank you for thinking of The Lodge at Sea Ranch for your future event or celebration. Please take a moment to complete the Request for Proposal and the sales and catering team will be back shortly! If you would prefer to email your information directly please send to [email protected]